The Author
---
A little information about the author of the USS Oregon web page.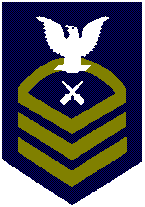 Chief Petty Officer, United States Navy

Above: Enlisted Surface Warfare Specialist (ESWS)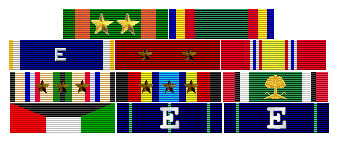 Ribbons are left to right from top left, number in parenthesis indicate number of awards:
Navy Achievement Medal (3), Navy Unit Commendation Ribbon, Navy Battle "E" Ribbon, Good Conduct Medal (3), National Defense Medal, Southwest Asia Service Medal, Sea Service Deployment Ribbon (4) Liberation of Kuwait Medal (K.O.S.A.), Liberation Medal (Kuwait), Expert Rifle Medal, Expert Pistol Medal.
The Commands:
Recruit Training Command, San Diego, CA., Jul 87 to Nov 87
USS Henry B. Wilson (DDG 7) , Nov 87 to Sep 89. Homeport: San Diego, CA
USS Harry W. Hill (DD 986), Sep 89 to Jun 91. Homeport: San Diego, CA
Service School Command, Great Lakes, IL., Jul 91 to Jun 92
USS O'Brien (DD 975), Jun 92 to Aug 94. Homeport: Yokosuka, Japan
Service School Command, San Diego, CA., Aug 94 to Sep 94
Naval Submarine Base, Bangor, Silverdale, WA., Oct 94 to Oct 96
Inshore Boat Unit Thirteen, Portland, OR., Jan 97 to Sep 99
Mobile Inshore Undersea Warfare Unit 110, Portland OR, Oct 99 to present
Navy Enlisted Classification Codes (NEC):
0879 - Mk 45 Mod 1 Gun Mount Technician
0812 - Small Arms Instructor
Courtesy: U.S. Navy
Above: A MK 45 Mod 1 on a DDG firing to port. If you look to the left of the photograph, you can see the projectile from the gun.