Gary Kingzett's USS Oregon Model
---
Below is Mr. Gary Kingzett's super detailed Glencoe model of the USS Oregon in person. I must say that the photos below do not do justice to the superb work that he has put into this masterpiece. Gary has taken this model to numerous model contests in the Eastern United States and has come away with many top honors. What sets this model apart from the rest, is that Gary has placed model crewmembers on the ship. Each has a little scene to go with it, bringing life to the model. Great job Gary on this model.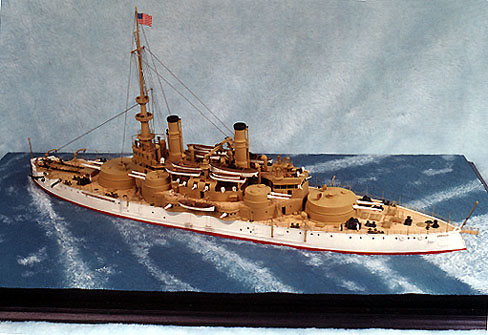 Above: A full view of Gary Kingzett's USS Oregon model by Glencoe in an underway setting.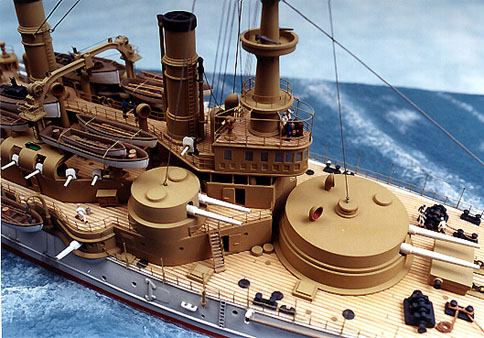 Above: A view of the forward area of the ship. On the forward port anchor winch are three crewmembers securing a line. On the bridge are the watchstanders stering the USS Oregon to its destiny and on the catwalk between the stacks (a little hard to see from the scan) are two officers discussing the day's work.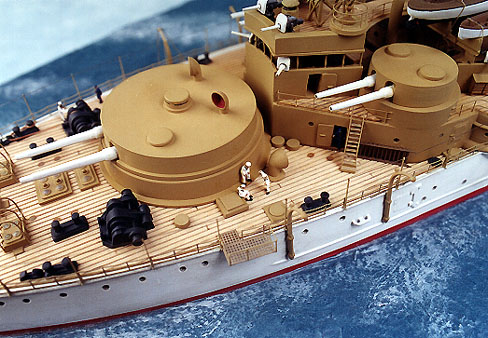 Above: Here's a personal favorite. For anyone that has been in the Navy, the fantail of the ship is a great place to take a break from work and spin some yarn. The sailor on the right is telling two shipmates about the big fish that got away, but the story is going to be cut short. An officer approaches from the passageway under the eight inch turret (Again hard to see from the scan). This seems very familiar to me!!!!