Naval Information
---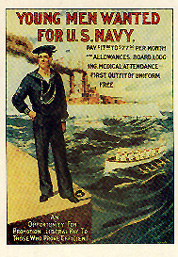 Welcome to the Naval Information page. This page contains information regarding the USS Oregon not contained in other the sections in the site, such as builders information. Additionally, information concerning naval matters can be found here.
Left: Navy recruiting poster from the early twentieth century.
"YOUNG MEN WANTED FOR THE U.S. NAVY"
Pay $17.60 to $77.00 per month and allowances, board, lodging, medical attendance - First outfit of uniform free.
An opportunity for promotion and liberal pay to those who prove efficient.