Voyage of the USS Oregon
---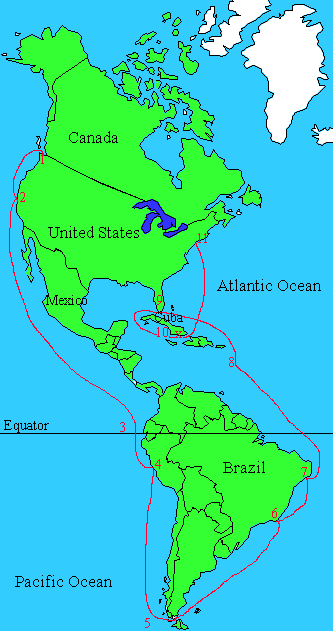 ---
Route of the USS Oregon's dramatic cruise from the Puget Sound Naval Yard to the waters of Cuba in 1898.
1. March 06, 1898. Departs Puget Sound Navy Yard in Bremerton, Washington.
2. March 09, 1898. Arrives San Francisco, California to refuel and rearm. USS Oregon departs on March 19.
3. March 31, 1898. Crosses the equator. Ship's company breaks from training for one day to hold the age old "Crossing-the-Line" ceremony.
4. April 04, 1898. Arrives in Callao, Peru. Departs Callao on April 07.
5. April 16, 1898. Enters the western end of the Straits of Magellan. Encounters heavy weather and anchors at Port Tamor. Departs on April 17 for Puetas Arenas. Arrives Puetas Arenas near the eastern end of the straits. Departs Puetas Arenas on April 21 in company with gunboat Marietta.
6. April 30, 1898. Arrives Rio de Janeiro, Brazil. Departs on May 04, in company with Marietta and dynamite cruiser Nichteroy.
7. May 08, 1898. Arrives Bahia (Salvador), Brazil. Oregon changes from white paint to gray. Departs on May 09.
8. May 18, 1898. Arrives in Barbados early in the morning. Departs later the same day.
9. May 24, 1898. Reaches the coast of Florida at Jupiter Inlet. Arrives at Key West, Florida on May 26.
10. Joins the U.S. Fleet in Cuban waters.
X. July 03, 1898. Plays important role during the Battle of Santiago de Cuba.
11.Dry dock at the Navy Yard in New York, New York.