QUARTERDECK OF THE USS OREGON
---

Courtesy: The U.S. Naval Institute
Quarterdeck of the USS Oregon. Shown here are the aft thirteen inch guns.



"The Quarterdeck of the ship is defined as a place designated by the Commanding Officer where official and ceremonial functions are carried out when the ship is inport. Crew, visitors, and yard workers check in with the Officer of the Deck (OOD) when arriving and departing".
Your current location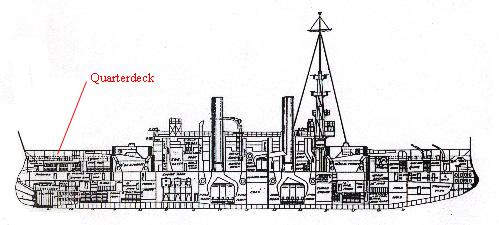 Cutaway drawing courtesy of the American Society of Naval Engineers

If this is the end of your tour of the USS Oregon, please proceed below to the "End Tour".
End of USS Oregon Tour
Back to Main Menu