USS Oregon battles a hurricane
---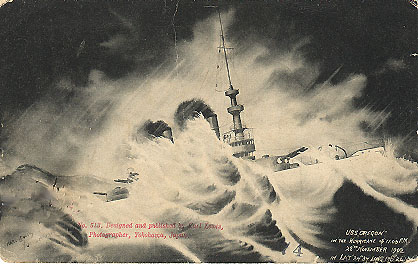 Above: Again the mighty warship battles the forces of nature. A post card published in Japan of the USS Oregon in a hurricane. At the lower right is a note that reads:
"USS Oregon in the hurricane on 11:00 pm 28th November 1902 in Lat(itude) 24 37 Long(itude) 176 26 E"
This post card was sent from Honolulu, Hawaii on March 26, 1906 to a resident in Pennsylvania. Was it sent from an Oregon crewmember?