USS Oregon Website
Main Menu
---

Created by Jeffrey Meals

---

Above: The USS Oregon arriving in New York

.Courtesy: Mr. Craig Roberts, photo edit by Mr. Pat Lee

Menu Selections
Note: The many of the terms used on this site are of a nautical nature or Navy specific and may be unfamiliar to many viewers. For you convenience, there is a naval glossary located in the "Naval Information" section.

After your visit, please feel free to sign the logbook. This will give you notification of updates to the site.
Sign My Logbook
View My Logbook

Warning: Some of the pages on this site load slowly due to the amount of graphics on the pages. Please be patient. Thank you.
---
This site commissioned: 28 August, 1998
Last ShipAlt: 17 February, 2001
---
Attention Naval History Buffs!!
If you have information and/or photographs of the USS Oregon and would like to share them, let me know. If your images or information are used, I will list your name in the "Reference" section.

Please report any broken links or discrepancies to the E-Mail address below.

Comments, questions, and other inquiries about the USS Oregon, email me at:
jmea@worldnet.att.net
Official Time
The U.S. Naval Observatory provides the official time for the United States.
Help Preserve Naval History. Please support the following: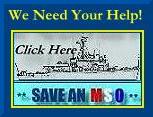 © Copyright, J.H. Meals, 2000