---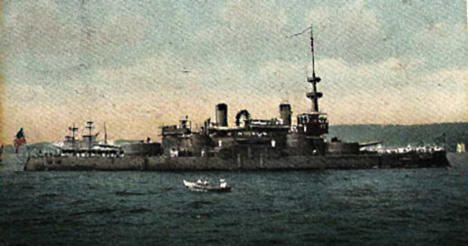 Above: USS Oregon returning from an underway period.
How to get around the ship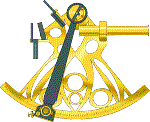 As you "tour" the USS Oregon, you will "visit" different areas of the ship. The tour of the ship is structured into separate departments of the ship. Each department has a master page. From this page you can select specific areas of that department or select another department. A departmental page can be identified by a turning helm as indicated below:
Once you enter the spaces of that department, you may visit as many or as few of the spaces in that department. The following will be found on the individual departmental pages:
Image(s) of that space or equipment room
A description of the space or equipment room
A cutaway drawing of the ship to indicate your actual location on the ship
A link to the next space or equipment room.
The last photograph of the department will return you to the "Main deck". The main deck serves as the thoroughfare of the ship.
Important Note: The starting and ending place is the quarterdeck and from the quarterdeck you can return to the main menu. If you see the plate metal background as shown on this page, you are currently on the tour of the ship. Enjoy your tour the USS Oregon, "Bulldog of the Navy".
Special Note.
A special thank you to Mr. Edward Hart, a true pioneer of the times. Mr. Hart was a photographic journalist and spent much of his time taking naval related photographs and captured what life was like in the United States Navy in the earlier part of the twentieth century. Mr. Hart made several visits to the fleet returning from Santiago and did make trips to the USS Oregon. The photos of the tour you are about to take would not be possible if it had not been for him. Without his hard work and dedication, we today, would not be able to enjoy the images of a bygone era.