USS Oregon in Bremerton Dry Dock
---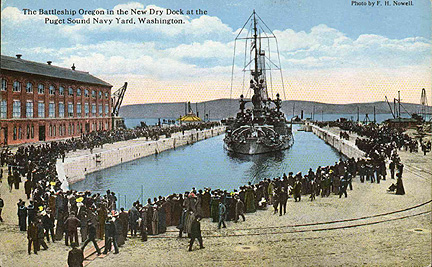 Post card of the USS Oregon entering the new dry dock at Puget Sound Navy Yard (now called Puget Sound Naval Station). The USS Oregon was the first ship to use the new dry dock. Spectators gather around the dock for the grand opening of the new dry dock and to see the famous "Bulldog of the Navy".
A special thank you to Mike for providing an image of the above post card for use on this site, so all of us can enjoy another part of the history of the USS Oregon. BZ, Mike.
Post card image of the USS Oregon in the Bremerton dry dock. Note the twin propellers and the awning over the quarterdeck area.