The Oregon in peril
---
Courtesy: U.S. Naval Institute, NH 79900-KN
Above: The USS Oregon battles her first enemy - the waves and currents of the Straits of Magellan.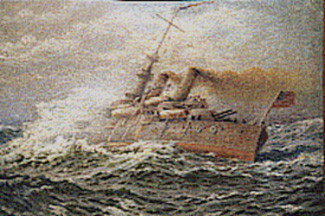 As the Oregon raced from the Pacific Ocean to the Atlantic Ocean to reinforce the Atlantic Fleet, the ship encountered a moderate gale prior to entering the Straits of Magellan on April 16th, 1898. The weather finally calmed down and the ship raced into the Straits. Soon after though, the storm increased to a full gale as the ship sailed deeper into the narrow waterway and nightfall was approaching. Captain Clark was concerned that the ship would not make safe haven at Tamar Island. Captain Clark had been through these waters years earlier, and knew that shores were littered with the wrecks of ships that had failed to successfully navigate the hazardous waterway. Prudently, Clark ordered the an anchor let go. The anchor reeled out and finally dug in at 125 fathoms. Carefully another anchor was released and the ship was secured the weather the storm. The storm pummeled the ship as waves beat against the ship and hardly a crew member slept during the storm. The next morning, as the storm had lessened, the ship weighed anchors, and rushed to Sandy Point to refuel. The Oregon was finally safe again in the open waters of the Atlantic after traversing 165 miles in eleven hours. The USS Oregon continued on her mission.
Above: The USS Oregon being battered by heavy waves as she crosses the Straits of Magellan. This painting is on displayed at the Columbia River Maritime Museum in Astoria, Oregon.